Long time readers of Yaoi Playground will know my love for Y Press Games as well as the work of author Yamila Abraham, but what you don't know is that my favourite work of hers is a series of light novels available on Kindle titled Maelstrom. Released back in 2014 the first volume of this series was one of my very first Kindle purchases and has been a title I have wanted to write about for a while and with the announcement of this game I plan to very soon. So when Y Press Games announced they had a game in the works titled Maelstrom: A Yaoi Visual Novel I could not help but smile because it meant I would be able to once again enter the world of planet Secren and with the story moving from a light novel to a visual novel with diverging routes it means further exploration of this fascinating world.
Then I saw the character designs for the game with the release of the demo and it has me even more excited with beautiful character designs from artist duo Dany&Dany and I knew I had to download the demo and give it a play and I am optimistically cautious with my excitement for the game, mostly because of my playthrough of the last Y Press Games release.
My biggest complaint of their last release Mister Versatile was the lack luster plot of the game over all and the one note characters. Don't get me wrong it is a very entertaining game to play with some gorgeous character designs, artwork and some really hot scenes and for some players that is enough but I went in expecting maybe a little too much from the plot, something I really hope does not happen with Maelstrom and from the game demo it most certainly looks like this will be a more plot heavy game.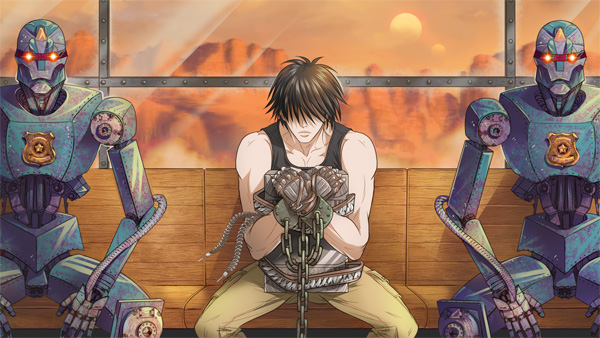 The demo for Maelstrom opens with you as the main character Demetri a former soldier at the beginning of a twenty year sentence for disobeying orders and I like that the opening gives us a look at the mental state his current incarceration has left him in and the decision is made for him for his sentence to be finished on planet Secren for his own mental health, but this comes with a catch. He has to find a mate for his own protection and this will mean partnering with another male which is not something Demetri is comfortable with, then add to the fact that on this alien world is a phenomenon known as Lightening which can cause a strong pull between those who are meant to be and let's just say my curiosity is peaked, after all soul mates is always a story theme that peaks my interest and it is rare to find it outside of fanfiction works, even more so than omegaverse these days with that becoming its own whole separate genre within romance fiction these days.
Within the demo we are introduced to three possible characters to romance. Helix who was the sole love interest in the original novel series is the owner of the largest mine on the planet and treats all his workers underneath him right. He is a hero type with a kind heart.
Then there is Zheng-Li the one in charge of the planet who sees workers criminal or otherwise as disposable assets to do with as he pleases who seems he would treat a partner exactly the same as if they were beneath him as well. In my playthrough of the demo there seemed to be an intriguing level of chemistry between him and Helix or more to the point Helix is someone he wants and I hope this is explored in the full game.
The last possible partner is the one that intrigued me the most and that was Jader one of the local rustlers who also happen to be cannibals, he takes an interest in Demetri due to Lightening. He is not happy with his life as a rustler and comes across as a victim of circumstance and I am very curious to find out more about him in the future. There is also a fourth possible route not featured in the demo for a character named Sawyer but very little info has been released about this character as of yet.
The game promises four different routes which most likely means very linier storytelling for each characters routes, but if the story is engaging enough then this is fine by me. I personally would rather play a game that is more linier with a stronger story than a game with many routes with a story that becomes over tedious or has a repetitive plot that just swaps out one character for another but has no real effect on the finale of the story.
If this sounds like a game you would love to support then please go check out the indiegogo page (they need just under another thousand dollars to make the game!) and for the game or if you want to try out the demo for yourself first then you can check it out here.
If you want to know more about the world of Maelstrom keep an eye on this blog because next Sunday I will be releasing my review of the novel series, until then my fellow yaoi and boys love lovers out there!